Tenejo Product Roadmap Update
We are committed to open-source, so we value collaboration and a strong sense of community. As we engage with the library and cultural heritage communities, we learn more and more about what people want for their digital repository. Those conversations inform and drive our direction as we refine our roadmap. We also value transparency, so we are eager to share our product roadmap with the community that has helped shape Tenejo and other Samvera-driven repositories over the years.
What we're up to right now
An empty repository is a sad and lonely one. And we want to make filling it up as simple and efficient as possible. Our CSV-based bulk importer is robust and supports the import of complex structured content.
We are currently improving bulk import status reporting. Curating and preparing your collections for import is a lot of work. Once you are ready to start the import, you want to know that the import is working as expected, and you want to be kept in the loop as the application builds your works and collections. To make the import reporting simple and informative, we've added a preflight check, which allows you to validate your CSV before import (see How to import content with Tenejo). Once you've run your CSV through Preflight and initiated your import, you can follow the progress by viewing the import status.
Likewise, we know it's essential to have the ability to make bulk updates to your records. So, we are currently working on an improved CSV import/export round-tripping solution. The process allows administrators to make changes or updates on large numbers of records with higher granularity. As a side benefit, our export functionality will let you easily migrate off the platform if you need to. We want you to stick around, but we want you to have peace of mind that you retain 100% ownership of your content and that the platform doesn't implement any secret form of vendor lock-in.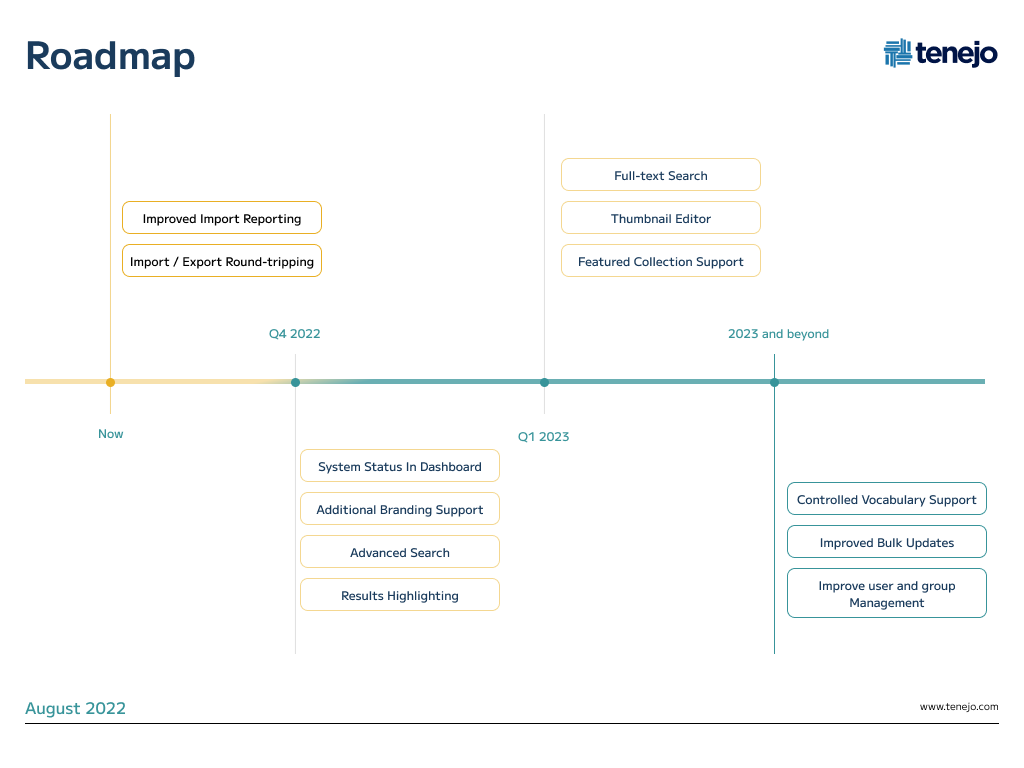 What's up next (Q4/2022)
Before the new year, we are also planning to develop a system status that gives administrators insight into system status and overall health from the Dashboard. You'll have insight into how much of your storage quota is in use. Having insight into the remaining storage quota is helpful as you plan for large imports. You'll also see all enqueued jobs and their status.
While Tenejo currently has great self-service branding options, we plan to add enhancements to allow you to match your institution's style guides more closely. We're adding optional style elements to give you even more control over how your repository looks.
We are adding some search features not currently offered out of the box. We've identified advanced search, search result highlighting, and full-text search capabilities as essential to the user experience. Tenejo is a discovery platform first, so we aim for a quality search experience for your end users. 
2023 and beyond
Here is a sampling of other features we have in the pipeline:    
We anticipate adding support for configurable controlled vocabularies.
Enhancements to the User & Group Management interface will make this feature more user-friendly. 
While a batch update feature currently exists in the user interface, we want to make improvements for better outcomes.  
Summary
Tenejo has much to offer out of the box. And as we continue to make incremental improvements to the experience for both admin and end users, we'll keep you in the know with periodic Product Roadmap updates. So, stay tuned. 
Please reach out if you have feedback or questions about our product roadmap. We want to hear about your insights for future development and enhancements. We greatly appreciate all the feedback we get.
---
Are you interested to learn more about Tenejo? Let's chat. Check out the links below or shoot me an email.
---